Skip to Content
Elite Hair & Makeup Services in Reno, NV
Caliber Hair & Makeup Studio is the top choice for complete hair and makeup services in Reno, NV. Whether you want a bold new look or want to maintain your existing style, our team of artists possess the tools, capabilities, and products necessary to create the best service result. We can perform our services if you want a simple change or a professional makeover for your upcoming event. Our work has been featured in respected publications, and we provide our expert services for editorials and the advertisement industry. Whether you want to elevate your style for business, for events & more. We are the experts for you.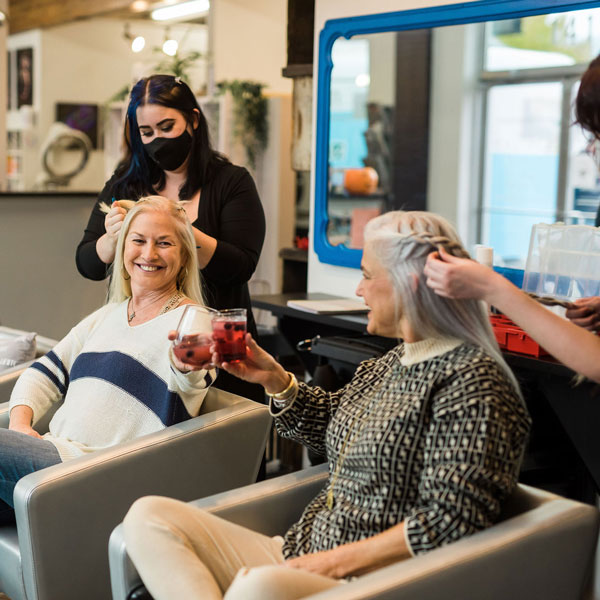 We Provide a Comprehensive Salon Service Experience
For a brand-new haircut or color, vibrant cosmetics, and healthier skin, we're here to deliver. We provide a full spectrum of luxury salon service care and maintenance that will increase your confidence & impact your self-expression.
Our services include all things hair and makeup for special events and commercial purposes. If you're a partner-to-be, we'll perform expert services that will make you turn heads on your wedding day. Editorial, commercial, advertisement and fashion-industry decision-makers choose Caliber to deliver the best results for their runways and front pages.
Crafted Haircuts
Based on your unique head and face shape we provide our clients with complimentary paradigm-shifting haircuts.
Color – Foiling – Balayage – Correction
Considering your own natural skin and eye tones we'll provide careful, attentive service applications that provide you with the most complimentary & dimensional color.
Aromatherapy Cleansing Scalp Massage
Indulge your senses and stimulate relaxation with our aromatherapy scalp massage, which relieves stress using fragrant oils.
Luxury Intensive Conditioning Treatments
Drench and restructure compromised hair with moisturizers and protein boosters that rehydrate, rehabilitate & illuminate the fabric of your hair.
Crafted Mineral Reducing Treatments
These services restore your hair's equilibrium, enhancing hair growth and preparing your hair for ultimate service results.
Keratin Complex Smoothing Systems
Relax, smooth, and refine that textured, unruly hair for hair that is shiny, supple, and malleable.
Perm and Texture Services
Increase curl pattern, movement, and versatility with a modern texture service.
Blow-Dry Finishing
After we've completed your new haircut, we will cap off your experience utilizing heat protectors and styling products to ensure movement & versatility.
Luxury Hair Enhancements & Extension Services
Adding length or volume or both? Bellami Wefts, I-Tips, Keratin Bonding, or Tape-in extensions are the solution for instant, dramatic hair goals.
Hair Replacement Systems
Complete & Partial hair replacement systems dedicated to hair loss solutions that will look & feel just like your natural hair.
Skincare
By Alex Leeder at YOU MicroSpa, our partner in skincare and body treatments.
Blowouts
The Caliber signature Blowout is perfect for a long-lasting style. Come into our BloBar, enjoy a beverage, and let us do the work for you.
Event Hair & Makeup
Are you going to the Gala, a Fundraising event, Graduation, or a Highschool Dance? How about your next Photoshoot or that perfect Head-Shot. We have you covered at The Caliber BloBar.
Wedding Hair & Makeup
We LOVE Weddings! Let our Wedding and Bridal Team make your dreams a reality as our gifted stylists and makeup artists create a custom look based on your vision. We offer In-Studio and On-Location packages.
Commercial Hair & Makeup
We can contribute our styling and makeup services for your next corporate event, magazine editorial, or your next online marketing campaign.
Designer Salon Service Packages
Including The Caliber Signature Blowout Package, Event Hair & Makeup Packages, & Designer Facial Waxing Packages. (Purchase 3 services, get 1 free)
Luxury Service Pricing
We are always striving to up-level our transparency as well as your superior customer service experience here at Caliber.
We have instituted a Non-Gender, Ala-Carte Service Menu. All services here at Caliber are service-priced per hour. The luxury services we complete for you are charged according to the time it takes, including product, to perform the service correctly and appropriately.
We believe this pricing structure alleviates any budgetary miscommunications, base price quotes for services rendered, and any gendered service titles not necessary to use for the services we complete for all persons coming to Caliber Hair & Makeup Studio.
Luxury Hair Enhancement & Extension Services
By Appointment and Consultation Only
Hair and Installation $1150 to $1550
Move up $175/hour
Hair Replacement Services
By Appointment and Consultation Only
Hair and Installation $1100
Remove and Replace $100/hour
Schedule The Caliber Consultation Today
We believe in beauty with purpose, enriching your hair, face, and skin with your specific needs in mind. Through a customized consultation, we assess your style and how it will best achieve your goals. Whether you want to stun on the runway or at work, our stylists approach your desired look with your needs at the forefront. We'll guide you through the process during your consultation, addressing your questions, concerns and developing a strategy that delivers superior results. Your beauty is our business, and our creative drive and approach will make your next event unforgettable.
Contact Us Today to Schedule The Caliber Consultation